Home
About Us
Resources
Obituaries
Cemeteries
Publications
Lookups
Places
Pioneer Cert
Links
Florence Styles & PGS History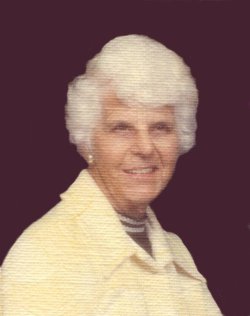 Florence Naomi Hall Styles was born 28 May 1905 to David and Mildred Payne Hall in Petaluma, California. She married Wilfred Baker Styles Jr. of Oakland, California on 1 June 1930 and together they had one daughter. Before retiring to Paradise, in 1955, Florence worked as a medical librarian in Oakland.

Among her varied interests were gardening, politics, history, genealogy, and many community-minded endeavors which benefited the people of Paradise. She served on the Paradise Auditorium Building Committee, as historian for Symphony Guild, as director of the Community Concert Association and was the first editor of the Tales of the Paradise Ridge, a bi-annual periodical published by the Paradise Historical Society, Fact & Folklore.

Florence was a charter member of the Paradise Genealogical Society and presented one of the first programs to the fledging Society's membership. As an active and tireless member she served as society president from 1971-1973. She also served as corresponding secretary for many years and in that capacity she did genealogical research for out of area persons who had ties to Butte County.

Florence's love of history motivated her to collect books, newspaper articles, maps, and photographs as well as all types of records, primarily about Butte County.

Upon her death in 1988, the entire collection was given to the Paradise Genealogical Society. Over the intervening years work has been done to reorganize and index the extensive and varied materials. Today this invaluable and irreplaceable collection is housed in the Florence Styles Room of the society library.

The Paradise Genealogical Society and Library are greatly indebted to Florence and her family for this marvelous treasure.
Florence Styles Room Book Collection (.pdf)
This may take a few seconds to download, please wait.

Florence Styles Room Map Collection (.pdf)
Our Library does not have the capability to copy large maps, but for a negotiated fee we can get a local copy shop to accommodate requests. Please contact our research staff.

Florence Styles Room Periodical Collection (.pdf)
The Paradise Genealogical Society publishes a monthly newsletter NUGGETS FROM PARADISE and an annual GENEALOGICAL GOLDMINE featuring local family histories and vital records for Butte County. In addition to these publications, the Florence Styles Room also houses periodicals from local historical societies and organizations in the surrounding counties of Northern California.

Florence Styles Room People Index (.pdf)
The 'People' Index is a compilation of newspaper articles and assorted materials collected by Florence Styles and placed in ten large binders. The index includes some photographs and genealogical notes from this local historian. This index includes over 5000 names of persons making up part of the history of Butte County, California.