Oroville Death Certificates
Feb. 1917 - Feb. 1920

The influenza epidemic that swept the world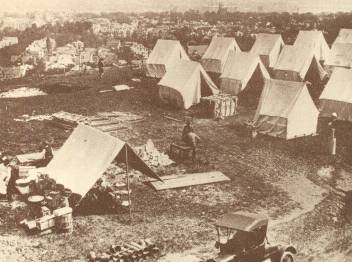 in 1918, killed an estimated 50 million people.
Butte County was not spared. The PGS Library
acquired a book of Oroville Death Certificates
dating from February 1917 through February
1920 containing 211 death records. Deaths
attributed to the influenza started October 1918
through January 1919. In those four months, in
Oroville alone, 22 of 35 deaths we caused by the
influenza.
An Emergency Hospital for Influenza patients.
Courtesy of the Stanford Archives.
Below is a link to an on-line index. Our society volunteers will extract information from the death certificates for a $5.00 donation per record. You may request information by email from:
In the "Subject" line put: Death Cert. Request